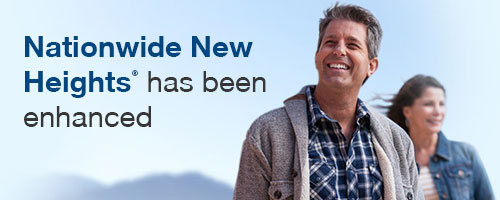 Nationwide® launched an enhanced suite of New Heights® fixed indexed annuities featuring:
More index options including the J.P. Morgan MOZAICSM Index—a multi-asset index option designed to achieve consistent, steady growth in a variety of market environments
More product flexibility including the new 9-year and 12-year product options.
Enhanced compensation schedule featuring a higher up-front commission option and three new trail options—contact your IMO today to find out more.
New lifetime income sales tools like the client-approved Enter Retirement with Confidence brochure for High Point 365SM
Call SMS at 1-877-645-4939 to get started today!
---
High Point 365 Lifetime Income Benefit rider is an optional rider available for additional cost. High Point 365 must be added at contract issue.

For Financial Professional use only – Not for use with the public

Nationwide New Heights, an individual, single purchase payment, deferred fixed index annuity is issued by Nationwide Life and Annuity Insurance Company, Columbus, Ohio.

Nationwide, the Nationwide N and Eagle, Nationwide is on your side, Nationwide New Heights, New Heights and High Point 365 are service marks of Nationwide Mutual Insurance Company. © 2015 Nationwide

All guarantees are subject to the claims paying ability of Nationwide Life and Annuity Insurance Company.
The J.P. Morgan MOZAIC Index (USD) ("Index") has been licensed to Nationwide Life and Annuity Insurance Company (the "Licensee") for the Licensee's benefit. Neither the Licensee nor Nationwide New Heights Fixed Indexed Annuity (the "Product") is sponsored, operated, endorsed, recommended, sold or promoted by J.P. Morgan Securities LLC ("JPMS") or any of its affiliates (together and individually, "JPMorgan"). JPMorgan makes no representation and gives no warranty, express or implied, to contract owners taking exposure to the Product. Such persons should seek appropriate professional advice before making any investment. The Index has been designed and is compiled, calculated, maintained and sponsored by JPMS without regard to the Licensee, the Product or any contract owner. JPMorgan is under no obligation to continue compiling, calculating, maintaining or sponsoring the Index. JPMorgan may independently issue or sponsor other indices or products that are similar to and may compete with the Index and the Product. JPMorgan may also transact in assets referenced in the Index (or in financial instruments such as derivatives that reference those assets). These activities could have a positive or negative effect on the value of the Index and the Product.

Electronic communication sent through the internet is not secure and its delivery is not guaranteed. This e-mail communication and any attachments may contain confidential and privileged information for the use of the designated recipients named above and is not intended to be forwarded to other individuals. If you are not the intended recipient, you have received this communication in error and any review, disclosure, dissemination, distribution, or copying of it or its contents is prohibited. In such case, please notify me immediately by replying to this message and deleting my e-mail from your computer.

FAE-0180A0-IM