Generating consistent leads is a universal struggle for today's insurance and financial planning professionals. And once you attract prospects, converting them to longtime clients can be equally as challenging.
But two Senior Market Sales® (SMS) programs address these pain points and, when used together, can fuel your business to new levels of growth.
The first utilizes educational workshops to attract prospects. The second uses technology to help you easily deliver the services you promised during the workshop, so clients see your value as a knowledgeable advisor who can help them throughout their retirement.
Use Educational Workshops to Attract Prospects
Educational workshops — specifically those on retirement topics — are increasingly recognized as one of the top ways to attract leads. Often held at public spaces such as libraries or community centers, they serve to educate the public on topics that impact them but also tie in with the solutions you offer. They are not, however, sales events. By keeping the sales pitch out and focusing on educating attendees, you establish yourself as an expert in your field and build trust.
Educational workshops that focus on important life events or topics in retirement are especially effective at attracting leads for insurance and retirement planning professionals.
Client Stream is an SMS lead-generation program that provides you with everything you need to conduct educational workshops on topics proven to appeal to adults near or in retirement. These topics include Social Security planning, long-term care planning, understanding Medicare, taxes in retirement, understanding annuities and core retirement decisions.
| Topic | Client Stream Presentations |
| --- | --- |
| When do I claim Social Security? | Social Security Planning |
| How do I plan for long-term care? | Long-Term Care Planning |
| What do I need to know about retirement? | Your Core Retirement Decisions |
| How do I enroll in Medicare? | Understanding Medicare |
| What do I need to know about taxes in retirement? | Taxes in Retirement |
| How can I achieve guaranteed, lifelong income? | Understanding Annuities |
Client Stream provides varying levels of support so you can conduct educational workshops with as much or as little hands-on work as you want. Whether you chose the do-it-yourself option or the full-service turnkey option, Client Stream provides all the pieces to make your workshops successful, including compliance-approved, scripted presentations, client-facing materials, marketing collateral and technology.
Use Technology to Deliver on Your Promise
All of these things prepare you to become a confident presenter on any of these retirement topics, whether you currently specialize in them or plan to gain the knowledge as you go. You don't have to be an expert in any or all of the topics, because SMS provides the technology that does the calculations and helps you present the solutions in a clear way that both you and the client can understand. This level of support makes it less intimidating to take on a new area of retirement planning. You can expand your scope of services — and expand your business.
Client Stream is more than just workshops. It is a lead-generation program that relies on SMS technology to turn leads into clients. Only SMS has this powerful combination that delivers sharply focused lead-to-client conversion.
The technology piece that can address all of the retirement topics covered in Client Stream workshops is Income ArchiTech™, an SMS planning tool that makes it easy for any type of retirement planning professional to help clients see their retirement income needs. After you use Client Stream educational workshops to attract clients, you use Income ArchiTech to do the calculations that will help you develop a retirement plan and find individualized solutions to clients' needs.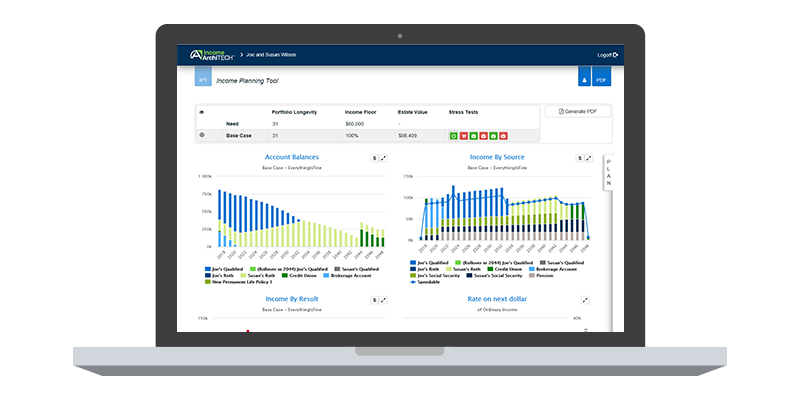 Show Your Client's Current Financial Situtation
You simply enter client information into the software. Income ArchiTech creates a base case snapshot of the client's current financial state, and it allows you to show how different life events — an unexpected health crisis or a market downturn — can impact the client's retirement income. The easy-to-understand charts show how these events can create gaps between the client's expected retirement income and the needed income. For example, you can show how claiming Social Security at the earliest time possible could potentially lead to an income shortage later, if one spouse dies unexpectedly. You then can apply a proposed solution — possibly claiming Social Security later or adding life insurance, for example — and the chart adjusts to show the needed income being met. You can make modifications to continuously improve the plan, then print the finalized plan and present it to the client.
Even if you don't consider yourself a retirement planning specialist, Income ArchiTech gives you the ability to cross-sell various products that can help clients with whatever issues they may bring you. For example, if you're a licensed agent who specializes in Medicare and your client asks "Can I afford to retire?", you can run the numbers easily in Income ArchiTech, answer their questions and help them find a solution.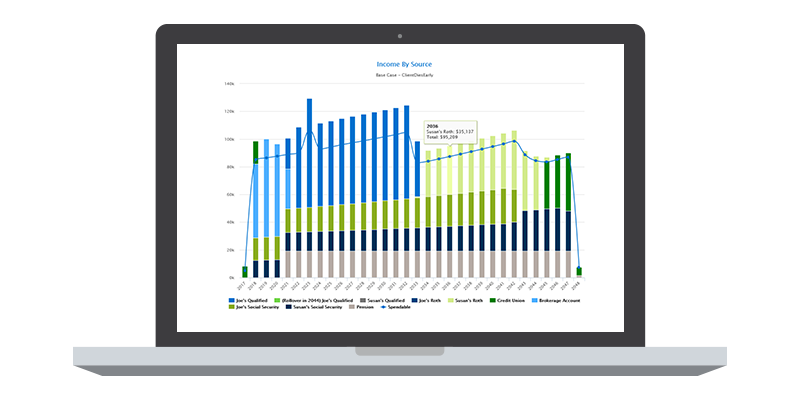 Show Your Client's Income By Source
With Income ArchiTech, you clearly show your client your value by identifying gaps and proposing solutions. For those prospects who came to you via your workshop, you've earned their trust by fulfilling the promised service that you presented during the workshop and by exceeding the client's expectation. They attend a workshop intending to learn about retirement decisions and end up with a trusted advisor and a thorough retirement plan. You've addressed their biggest concerns, helping them visualize a better retirement and head into retirement confidently. Imagine the referrals that will spring from their positive experience with you. You've just created a sustainable stream of clients.
Ready to Get Started?
Call 1.800.786.5566 to speak to a marketing consultant about how SMS can help you. An SMS marketing consultant can answer any questions about Client Stream or SMS' technology platforms, including Income ArchiTech, that are available to support your educational workshops. You also may request an Income ArchiTech demo here.
While Income ArchiTech is a powerful tool to help clients with all their retirement income concerns and all of the topics presented during the Client Stream workshops, SMS also offers technology platforms that help you dive deeper into the topics of taxes in retirement and Social Security claiming strategies. A marketing consultant can help you determine which might be the best Client Stream workshop topic and software for your growth goals.
If you're interested in learning more about Client Stream's educational workshops, download "8 Tips for a Lead-Generating Seminar," a free tips sheet. Or, if you are considering conducting educational workshops on your own without assistance, ask a marketing consultant for "The Ultimate How-To Guide for Successful Client Workshops." This 28-page guide covers every step and detail so you can deliver a seamless customer experience.
Whether you're a licensed agent who specialize in Medicare or a financial advisor, Client Stream and SMS technology provide the powerful combination that can get you leads and convert them to loyal lifetime clients who refer, providing that consistent stream of clients that will grow your business.