—April 2, 2012
We have added Annexus' new income rider, the Balanced Allocation Lifetime Income Rider (BALIR). You may have heard that it has some pretty revolutionary features, but you're still not sure why you or your clients should care. First of all, the BALIR was designed with today's economic environment in mind. That means it's ultra-efficient, delivering unsurpassed accumulation potential even in today's low-interest rate environment. And it was built to help your clients maintain level buying power over a 20 or 30-year retirement.
Below we illustrate two unique selling points of the BALIR and show you how they can enhance your clients' accumulation potential and financial security over the long term.
Unsurpassed Accumulation Potential
The Stacked Growth Option
Leverages the growth potential of the uncapped Balanced Allocation strategy in the income base. It combines a 5% fixed roll-up rate with 100% of the interest credited to the underlying annuity contract (BAA), giving the BALIR the highest growth potential of any income rider in the industry.
According to Annexus' 30-year back-testing, the average roll-up rate over 10 years would have been 8.66%. The best 10-year period achieved a 10.65% roll-up rate. See how the Stacked Growth Option compares to the fixed rate roll-up option below.
If the client plans to trigger income any time in the first few years, they're probably better off going with the fixed rate option.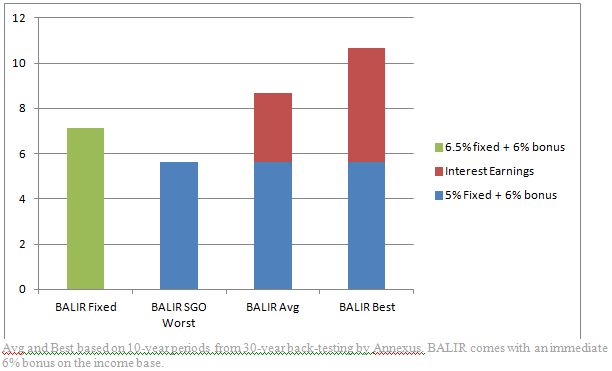 Safety for the Long-Term
Inflation Indexed Payout
Most income riders offer level payments guaranteed for life. That sounds pretty good, but the trouble is $10,000 will only be worth $4,919 in 25 years, assuming 3% inflation. What your clients really need is level buying power, not level payments.
With the BALIR your clients can choose to index their payments to the Consumer Price Index (CPI) for 30 years, so their income can keep up with inflation. As you can see in the illustration below, when they choose the inflation indexed option their payments start lower, but soon catch up and surpass the level payout option.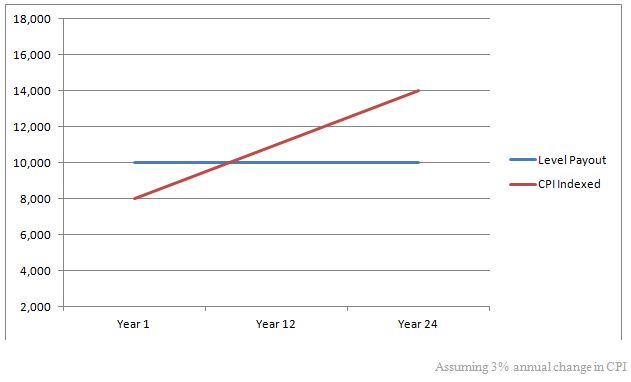 A couple other carriers offer an inflation indexed payout on their income rider, but they have limiting features the BALIR does not.
The competition doesn't measure up:
Only increase for 20 years – will that cover life expectancy?
Stops when the accumulation value reaches $0
Fixed % increase in payments
If you don't take the max withdrawal, you don't get increase
And don't forget about the BALIR's Confinement Doubler feature, which doubles income if the event the client is confined to a nursing home.
What's amazing is Annexus was able to make all of these enhancements to their income rider without changing the price. It's still just 95 bps and still no gain, no fee.
---
If you liked this article, try one of these...
Grow Your Business with
Agent Advantage Tools
Online Quotes
Online Enrollments
Lead & Contact Management
SMS University
More than 40 training videos, brainsharks and white papers.