Slow seasons or down time don't have to result in a sales slump for independent insurance agents and retirement planning professionals.
In fact they can be an opportunity of sorts to take a step back and explore new strategies to boost your income stream and are grow your business. Here, we've gathered eight ways to boost insurance sales and avoid seasonal slowdowns.
1. Get High-Quality Leads All Year

Keep your Medicare leads flowing outside Annual Election Period (AEP) with Client Stream® Lead Exchange, a first-of-its-kind lead platform that enables agents to choose your price point, which leads you want and when you want them. With this platform, only available through Senior Market Sales® (SMS), you can get exclusive access to leads, inbound calls, and warm transfers from the top companies in the marketplace.
Get started by requesting access to Client Stream Lead Exchange.
SMS' Client Stream lead program also includes proprietary workshops on topics that resonate with pre-retirees and retirees, from Social Security to Medicare. You get client-facing materials to market the event and the script and presentation to execute flawlessly.
SMS even provides guides on how to conduct workshops in person or virtually. Check out "8 Tips for a Lead-Generating Seminar" and "The Ultimate Guide to Virtual Workshops."
To speak with an SMS marketing consultant about getting started with Client Stream, call 1.800.786.5566.
2. Offer Existing Clients Ancillary Products
If you're an agent specializing in Medicare products, following up with clients after the AEP is a natural and easy transition with ancillary products. You can uncover other needs and connect them to protection by offering products such as:
Dental, vision and hearing insurance
Hospital indemnity insurance
Short-term recovery care insurance
Final expense insurance
Critical illness insurance
Cancer, heart attack and stroke insurance
Disability income insurance
SMS can help you get contracted and connect you with client-facing marketing materials, such as customizable emails, letters and flyers to send to prospects and existing clients. To get started, check out this "Guide to Ancillary Products" and call 1.800.786.5566 to speak with an SMS marketing consultant.
3. Identify Conservative Clients and Offer Multi-Year Guaranteed Annuities
The similarities of multi-year guaranteed annuities (MYGAs) to certificates of deposit (CDs) — especially their simplicity — make them a great option for your more conservative clients with CDs about to mature, Treasury bonds or money market accounts. MYGAs are attractive because they offer protection but higher interest rates than CDs — plus, tax advantages. Because they are the least-complicated type of annuity, even the most annuity-wary clients can be open to them. And if you aren't offering MYGAs, their simplicity makes them attractive to sell because they are the least complicated of annuities.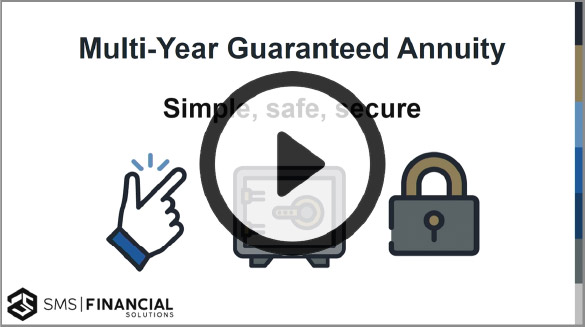 This short, on-demand video explains why MYGAs appeal to certain clients and how simple they are to sell in a rising-rate environment. Because of the rising interest rate environment, MYGA sales in the second quarter of 2022 surpassed all other annuities — up nearly 80% from the previous quarter and up nearly 82% from the same quarter in 2021, according to Wink's Sales & Market Report.
Jump on the opportunity now by getting contracted, exploring which clients might be candidates for MYGAs, and learning more about MYGAs, and you'll be up and running before you know it. April in particular presents a sales opportunity — many clients are pondering: what should I do with my tax refund? Also, for clients who in the past have thrown their tax refund into CDs, April often is when they must decide whether to renew into another 12-month CD, presenting you another opportunity to provide guidance and show your value.
To learn more or get started, call 1.877.645.4939 and ask to speak with Mark Cavalieri, SMS' Associate Director of MYGA Sales.
4. Add Fixed-Indexed Annuities to Your Portfolio
A year-round opportunity for adding an income stream is the fixed-indexed annuity (FIA), which, like the MYGA, is a popular product with consumers today. The FIA ended 2021 with its highest sales numbers in three years. Even with a sales dip early in the COVID-19 pandemic, FIAs regained momentum. Industry experts project that momentum to continue, partly because of the findings of consumer surveys like the Alliance for Lifetime Income's 2022 Protected Retirement Income and Planning Study.
According to the study, nearly half of consumers believe financial professionals have a responsibility to present protected lifetime income products to their clients, and 42% of consumers who currently work with a financial professional would consider leaving their advisor if they did not present them all the possible strategies for producing income in retirement.
To learn more about FIAs' recent sales surge and product innovations, get this free white paper, "The Rise of the Fixed Indexed Annuity."
To speak with a marketing consultant about how SMS can help you get started or expand your annuity sales, call 1.877.645.4939.
5. Help Clients With Roth IRA Conversions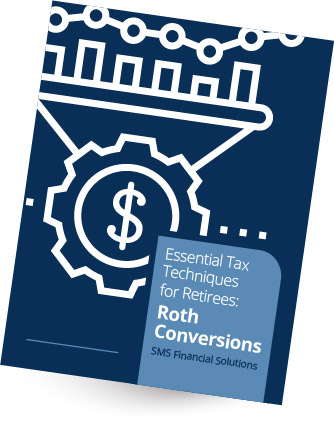 When you show clients that you can help them lower their tax burden by using tax-efficient retirement income strategies like the Roth IRA conversion, you not only retain their business but also increase the chances that they'll spread the word about your smart advice. And that can grow your business.
The Roth conversion transitions money from a traditional retirement account into a Roth IRA. Your clients pay taxes at the time of conversion in exchange for tax-free growth and income later in retirement. To learn how this can help clients and your business, download this free eBook, "Essential Tax Techniques for Retirees: Roth Conversions."
6. Help Clients Navigate Taxes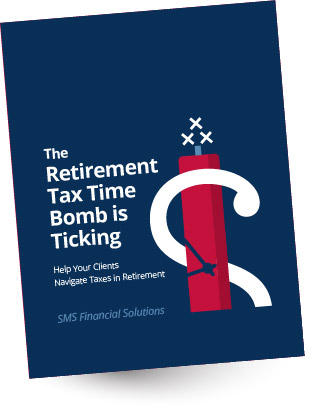 All your advice helping clients plan for retirement can crumble if you don't account for taxes. But many insurance agents and retirement planners make the mistake of assuming they can't discuss taxes with clients because they're not accountants or attorneys. If you're helping clients with any aspect of retirement, you have an opportunity – if not an obligation – to help them protect the savings they've worked so hard to accumulate. And that means talking taxes.
Learn how you can help them and also grow your business – download the free eBook, "The Retirement Tax Time Bomb is Ticking: Help Your Clients Navigate Taxes in Retirement."
7. Enter the 403(b) Rollover Market
Much like 401(k)s are offered to employees in the private sector, 403(b) plans are offered to employees of private nonprofits and government workers, including public school employees. But a complicated marketplace locks out most insurance agents and retirement planning advisors from accessing these educators and the more than $2 trillion in their orphaned 403(b)s.
Now, a program offered only through SMS removes the barriers to the 403(b) space so that more advisors and agents can reach educators to provide the service they deserve. SMS' Monument Benefits™ program is the ultimate connector of all players in the 403(b) space — the missing link that connects all the entities and solves the problems that have plagued this space for years. You get listed as a preferred provider and gain access to this restricted space.
To learn more about growing your business and helping educators retire successfully as part of the Monument Benefits program, register here.
Turn Down Time Into Go Time
SMS is here to help you make the most of your slow seasons – and all your seasons. If you'd like to discuss any of the programs mentioned here or other ways SMS can help, call 1.800.786.5566 to speak with a marketing consultant.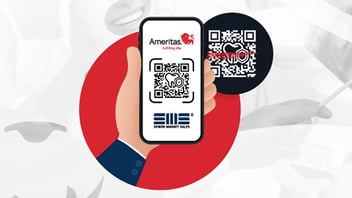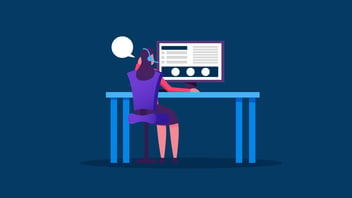 If your business is based on in-person workshops, walk-ins and face-to-face appointments, the novel coronavirus has forced you to reconsider how you...
Read more »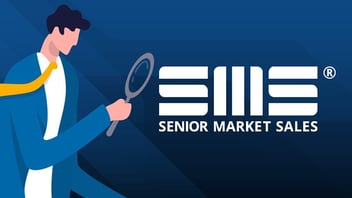 Choosing a field marketing organization (FMO) is one of the most important decisions you'll make as an independent insurance agent or retirement...
Read more »