← Back to all posts
SMS' Milton and Hershel Kleinberg Retire, Leaving Legacy of Integrity and Innovation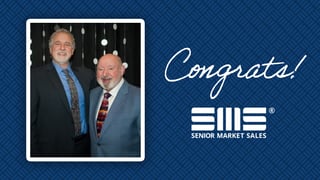 Milton Kleinberg and Hershel Kleinberg, the father-son duo who helped build Senior Market Sales® (SMS) into one of the country's most respected and successful insurance marketing organizations, retired on Sept. 15, 2023.
SMS Chairman Emeritus Milton Kleinberg, a Holocaust survivor and U.S. immigrant, started as a consultant with the company that became SMS in the early 1980s and went on to become CEO and sole owner, establishing SMS as a Medicare Supplement powerhouse serving independent insurance agents. His son, Hershel, joined the company in 1997 and grew to become Chief Technology Officer and Executive Vice President, helping establish SMS as a technology leader in the insurance industry.
Over the years, SMS expanded its product offerings, diversified its family of companies and created bold, new partnerships to address industry disruption — all to ensure that independent insurance and financial planning professionals can grow their businesses and better serve Americans' health and wealth needs.
Above all, SMS is known today for operating with the highest standards of integrity and trust with all of its partners, from agents and carriers to its employees and new partners.
A Lasting Legacy
"No question about it, Milt and Hershel's legacy is SMS' reputation — doing the right thing, even if it's not the easiest or quickest thing to do," said SMS President, Jim Summers, who has worked with the Kleinbergs for 25 years. "Integrity. The character of both men. Innovation. Especially in the insurance business, your reputation is everything. And SMS' reputation distinguishes us. For that, we'll always be grateful."
After searching for a strategic partner to help strengthen the Omaha, Nebraska-based company and also retain its employees and unique family-like culture, SMS in 2020 joined Alliant Insurance Services, one of the nation's largest insurance and employee benefits consulting firms. Three years after the transfer of ownership, the success of the Alliant partnership influenced the Kleinbergs' decision to retire, Hershel said.
"We are overjoyed with the success of Senior Market Sales. From humble beginnings in the early '80s and only 20 employees in the mid-'90s, SMS has grown to over 650 employees today. Milt built a company that felt like family, and he continues to think of it that way," Hershel said. "We are grateful to have had the opportunity to work alongside each other for the past 27 years and to work with so many talented and caring people that helped make SMS the company it is today. We feel confident in our decision to retire at this time because of our confidence in all of our employees. SMS has strong leadership, exceptional employees, and the support from Alliant to drive growth well into the future."
Humble Beginnings
While Milt's time at SMS began in 1984, experiences dating back to his childhood greatly shaped the company's unique culture and success.
Although Milt did not speak of his Holocaust experiences most of his adult life — not even with his wife, Marsha — a trip to Russia triggered a flood of memories. His grandchildren urged him to record them, resulting in his 2010 memoir originally self-printed in a large hard cover version but later reworked for the paperback version titled, "Bread or Death: Memories of My Childhood During and After the Holocaust."
The book chronicles the journey of the Pabianice, Poland, child transported in crowded cattle cars through frigid Russia and forced-labor camps to Uzbekistan and then to the German Displaced Persons camps at the end of World War II. At every turn he faced unimaginable challenges: hunger, the family's abandonment by his father, the death of his brothers, kidnapping and murder. Yet, in all the darkness, Milt shares moments of light — gratitude for his mother's sacrifices to keep him alive and for the country that accepted him through Ellis Island and offered opportunities to thrive.
"It's pretty remarkable that such a humble man with humble beginnings can turn out to be so wildly successful," said Dwane McFerrin, SMS' Senior Vice President, Med Solutions. "He's really lucky to be alive. The story of what he went through and what his family went through is remarkable. Just to even learn English was a challenge. He had such huge disadvantages. But when you talk to him, he's never a victim. Rather, he's one who rose above it all and in the end had great success."
Perseverance, Determination and Hope
When the book was published, Milt was asked what his young life in Russia taught him. He answered, "Perseverance, determination and hope are the tools of survival. Your mindset determines how successful you will be in using those tools."
That sentiment would later be immortalized in the SMS motto that employees know by heart: "Successful people do those things that failures refuse to do." Milt, who at age 14 immigrated with his family to the United States, said a convocation presentation by Olympic Decathlon gold medalist Bob Mathias inspired the motto. He wanted to be successful, he said.
And he was.
With the help of a Polish-American tutor, a football coach and other teachers, he learned English and earned a B+ average, excelling at math and athletics. After high school, he joined the U.S. Army and served in Korea, and after trying various jobs, he started his insurance career as a debit agent with Prudential, eventually starting a small Milwaukee insurance agency in 1968.
Along the way, he also reached what he called one of his greatest achievements — becoming a naturalized U.S. citizen — in 1959.
Another accomplishment: his family. In 1960, he married Marsha, and they grew their family with the births of daughter Cindy and son Hershel. At the time of his retirement, the family numbered six grandchildren and 17 great-grandchildren. After witnessing a genocide that included his family members and so many others and losing two brothers in World War II, he emphasized the importance of family and even extended it to include everyone at SMS.
"He treats everybody like a family member," said Brian Hickey, Vice President of Insuractive®, an SMS company. "His values from his professional life are also part of his personal life, and vice versa. And I think that's really something that everybody should strive to. He's been an ultimate role model from that perspective."
The Making of the SMS Family
SMS was founded in 1982 as a subsidiary of Omaha-based National Financial Dynamics (NFD), a life insurance brokerage specializing in a new product called universal life. NFD had garnered an exclusive contract to sell Colonial Penn Medicare Supplement and brought in Milt as a consultant and subject matter expert who had been selling and marketing Medicare Supplement since the product came on the market in the 1960s. After working in the insurance agency he'd started in Milwaukee and consulting with NFD for two years, Milt joined Senior Market Sales, Inc., as a partner by buying out one of the existing partners in 1984. After his initial meeting with the partners at NFD, Milt confided to Marsha, "I am going to own that company someday."
Nearly a decade later, in 1994, Milt parted ways with the remaining partner to become SMS' sole owner. As CEO, he led a team of only 10 other employees, including Marsha as office manager. They remained in the same five-story, glass-clad office building at Omaha's busy 84th Street and West Dodge Road but only occupied a fourth of the top floor and a fourth of the first floor.
Everyone pitched in at "work parties" to compile paper kits — two-pocket folders with contracts on the left and state-appropriate materials on the right — and then apply labels before running them through the mail machine, recalls Jennifer McMahon, who joined in 1994 in an executive administrative role under Marsha.
"We were, you know, scrappy," McMahon said with a laugh. "You do the best you can with what you've got. I think Marsha would say, 'we're gonna be lean and mean.'"
As that expression indicates, they were efficient and successful — "mean" was far from the reputation they were building among employees, agents, carriers and other partners.
A Company That Keeps Its Word
McMahon, who now serves as SMS' Senior Vice President, Operations, recalls how SMS alerted a carrier that an SMS-contracted agent was "acting without integrity." The carrier otherwise never would have known, but SMS spent a year making it right, she said.
"When you make a mistake or find a mistake has been made, don't try to brush it under the rug," she said. "You need to be honest with it. It's not just the mistake, but also who does this impact and who needs to know. People are people, they make mistakes. We want to make sure we're holding up our end of the bargain."
Another example of SMS' integrity, McMahon said, was when Milt and Marsha took out a loan to help pay agents after red tape had snarled a carrier's commission payments.
"That builds trust. That builds a reputation," McMahon said. "When you boil it all down, the business has not changed at all, because, it is a relationship business. People want to work with people they like. They want to work with people they trust. Because of who the leaders (the Kleinbergs) are or were, that grounded all of us, I think, in a way that is fairly unique in our industry."
Bill Kauffman, SMS' Senior Vice President, Financial Solutions, said one reason he came to work for SMS in 2008 was that his approach to dealing with people aligned with Milt's philosophy.
"One, is to earn their respect and earn their business, but also deal with them as human beings and establish a very strong personal as well as professional relationship," Kauffman said. "It's really a positive thing to see that Senior Market Sales has built its own company the same way with keeping those things in sight."
That same moral compass is what Hershel credits his parents for instilling in him professionally and personally. Three years after his father became sole owner of SMS, he joined the company, marking a new era, just as the internet was changing the industry and the world.
Turning a Corner With Technology
Although Hershel had earned his insurance license at 18, his interests led him in different directions, earning several degrees: Bachelor of Science degrees in Computer Science and Electrical Engineering from Washington University, a master's degree in Computer Science from the University of Southern California and his Juris Doctorate from the Georgetown University Law Center.
Hershel started his career in computer engineering as a research scientist with Bellcore, researching a new technology called Hypertext — the precursor to the World Wide Web. His internet development experience included more than 15 years as a graphic designer and programmer, with expertise across many programming and application environments and clients that included the Colonial Williamsburg Foundation, the National Geographic Society, the Department of Education and PBS.
As an attorney, he worked in patent litigation for Howrey & Simon with such high-profile clients as Nestle, Pepsi, Fisher Price, Alcon Laboratories and Kodak, and clerked for Judge Paul Michel, the now-retired chief judge of the Court of Appeals for the Federal Circuit.
Realizing his internet development skills could transfer to any industry, Hershel joined his father at SMS and built out a platform for Travel Insurance Center®, a consumer-facing SMS company, as well as other SMS websites and web-based tools and services. He also initiated and oversaw continued development of the company's powerful lead management software, called Lead Advantage, which evolved to today's popular Lead Advantage Pro®.
"When you see that over 70% of our business can come in from the use of Lead Advantage Pro, you would have to say that that was a turning point and certainly a critical point in the way we look today," said President Summers, who joined the company in 1998, just a year after Hershel started. "Milt wouldn't have spent the money on technology if it wasn't for Hershel."
Explosive Growth
With Hershel driving the technological innovation and Summers leading the strategic direction and day-to-day operations, SMS grew dramatically and established itself as a technology pioneer in the insurance industry.
"A lot of times, we had technology before we had agents who wanted to use it," Summers said.
But when agents experienced how SMS tech delivered on the company's mission — to help independent agents leverage time, make more money and put their business in a position of distinction — word spread, and more contracted through SMS. Milt, Hershel and Summers were what McMahon called "a great trilogy of leaders" who fueled an era of explosive growth, earning SMS four consecutive appearances on the Inc. 5000 list of America's fastest growing private companies — for 2008, 2009, 2010 and 2011.
Strategic Growth Through Acquisitions
Throughout its first 40 years, SMS has survived the most tumultuous industry disruption by seeing change as opportunity and by delivering creative but practical solutions that guide agents through that disruption to even greater success.
When an influx of private equity sparked today's rapid consolidations in the insurance industry, the Kleinbergs and SMS leaders once again searched for opportunity in the change. It could acquire or be acquired. But being acquired by the competition or private equity firms was not in line with the entrepreneurial SMS spirit.
It found a cultural fit in Alliant Insurance Services — a company that shares its values but that also could provide capital for acquisitions and partner with SMS to create a new distribution model. Since joining Alliant in 2020, SMS has acquired more than a dozen companies at the time of the Kleinbergs' retirement.
Alliant also has provided the resources to continue SMS' organic growth by attracting new agents through new markets, bringing the number of contracted agents to more than 71,000 in 2023.
Today, SMS provides quality products from the industry's best carriers, unparalleled service, training, and technology solutions. It represents top Medicare Supplement, Medicare Advantage, annuity, life, long-term care, and travel insurance carriers in all 50 states and in 2023 expanded into the under-65 individual health insurance market.
Still, employees reflecting on the Kleinbergs' retirement say that for all of SMS' accolades and success, it's Milt's and Hershel's integrity, character and personalities that they'll miss most.
Gratitude for the Kleinbergs
"Milt and Hershel have done the incredible in creating a wildly successful company that is guided by trustworthiness, generosity, and care for each employee as an individual," said Natalie Blanke, SMS' Vice President, Deputy General Counsel. "Working here has been a constant blessing in my life; and as the company has undergone many changes in my time, those same guiding principles remain. I am deeply grateful that I found the company that they built, but which is so right for me. Thank you Milt and Hershel — we will miss you here very much."
Hershel will remain available as a consultant to SMS and Alliant. He also plans to spend more time working on Open Horizon, a family foundation he started with his wife, Lisa, as well as on other pursuits, such as remodeling an Old Town Alexandria home, trying new wines, practicing photography, and spending time with Lisa and family.
Milt and Marsha will continue to be based out of Omaha and hope to spend winters in Florida. They also will continue their work on the board of The Kleinberg Family Foundation started by their daughter, Cindy Levy, and look forward to enjoying even more time with family.
Summers said that while he'll be able to still consult with Hershel, he misses being able to walk into Milt's office for a chat, whether personal or professional.
McMahon said she'll miss the conversations, too, because both Milt and Hershel are great listeners. Milt, in particular, can make her laugh and lights up the room, she said.
"Milt has a charm about him that is unlike anyone else I've ever met," she said. "I think sometimes people hear the accent, and they maybe hear him mispronounce a word. But he's wicked smart. And not just about business. But about people. And when you really come back to this being a relationship business, that's why he's king."
Hershel and Milt leave the company bigger, stronger and more prepared for the future — but with the same basic principles of treating others well, she said.
"Even to the very end, they are who they are. They don't pretend to be something that they're not, and, and they don't make empty promises," McMahon said. "They handled the transition with such grace and kindness and really lived up to the standards that we've always been able to rely on."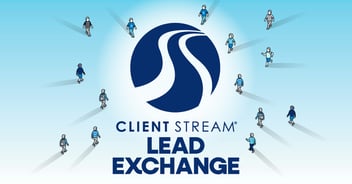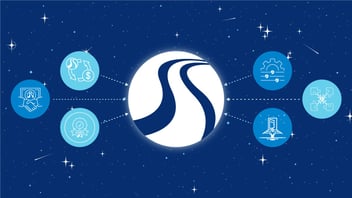 If you've been in the insurance industry for any length of time, you know that having a steady stream of leads is paramount to success. The task of...
Read more »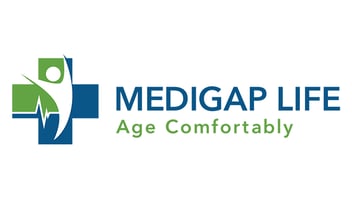 Medigap Life's Lead-Generation Expertise and Exceptional Customer Service Are Industry Model
Read more »